Low Code Mobile App Development Platforms
This article will explain the top ten low code mobile app development platforms. Additionally, it will provide an overview of each vendor, key features, benefits, and pricing structure.
Software development is a process that consumes time and resources. Coming up with an app development idea from scratch and executing it is a lengthy process that requires high intelligence along with ability and insight. A low-code approach can help make this run ten times faster.
Featuring a technologically advanced, dedicated application development environment for professional and non-professional developers and business users, Low Code is structured to augment and synchronize performance for multiple mobile developers.
Anyone who has an idea of ​​application development can implement low code and create lucrative applications that contribute to the extension of their business empire.
So which low-code platforms are the most attractive to transformational organizations of this generation? Here are the top ten recommendations.
Contents
1

 What is low code?

2

 What are the benefits of low code?

3

 What are the disadvantages of low code?

4

 Top 10 Low Code Mobile App Development Platforms

5

 Back4App

6

 OutSystems

6.1

 Main features

6.2

 Advantages

6.3

 Prices

7

 Backendless

7.1

 Main features

7.2

 Advantages

7.3

 Prices

8

 Zoho Creator

8.1

 Main features

8.2

 Advantages

8.3

 Prices

9

 BuildFire

9.1

 Main features

9.2

 Advantages

9.3

 Prices

10

 Appy Pie

10.1

 Main features

10.2

 Advantages

10.3

 Prices

11

 Bizness Apps

11.1

 Main features

11.2

 Advantages

11.3

 Prices

12

 Mendix

12.1

 Main features

12.2

 Advantages

12.3

 Prices

13

 Caspian

13.1

 Main features

13.2

 Advantages

13.3

 Prices

14

 Appian

14.1

 Main features

14.2

 Advantages

15

 Conclusion

16

 Frequently Asked Questions

16.1

 What is low code?

16.2

 What are the advantages and disadvantages of low code?

16.3

 What are the top ten low code mobile app development platforms?
What is low code?
Low code is a software development approach that uses a graphical user interface with simple drag-and-drop functions and logic instead of traditional hand-written code to create application software.
As its name implies, low code requires little or no coding to create applications. A low-code approach can create simple to complex applications that meet end-to-end business demands for development and accelerate digital transformation.
Developers may or may not have prior knowledge of coding and still develop applications that move the needle of your business.
What are the benefits of low code?
These are the main advantages of low code:
The low-code approach helps build applications that run at digital speed. This creates app capabilities that allow users to operate apps smoothly on various devices. For example, collaboration tools and applications are just as viable on a desktop PC as they are on a smartphone.
With the ability and quality to develop more applications in less time, the price per application decreases. Additionally, this approach effectively reduces the number of developers required, lowering hiring costs. An efficient low-code platform can make the entire application development process comparatively cost-effective and productive.
Low code development dissolves the barrier between time and real innovation. You can create more applications in significantly less time, contributing to higher productivity.
With a low-code application development approach, developers can easily make changes to applications and adapt them to match new requirements. This development approach facilitates instant application changes when required without the need to go through a complicated coding process.
Transformation is a vital requirement in today's changing digital world. A low-code app development approach takes the hassle out of building great modern apps. And reduced hassle means smooth navigation.
What are the disadvantages of low code?
Here are the main disadvantages of low code:
Low code offers limited capabilities. The developers of a system have access only to the predefined blocks on a particular platform. This makes it difficult to customize an application, especially when the existing blocks do not provide the necessary functions.
Low-code platforms exhibit a generic nature. This is justified because no tool is good at everything. Because of this, low-code platforms can have trouble dealing with large loads, resulting in performance issues. If such problems arise, the only way is to rewrite the application using code.
Integrating applications with an external system using a low-code platform is impossible. This is especially true when developers need to integrate with legacy systems that have APIs that are not structured according to standards.
Top 10 Low Code Mobile App Development Platforms
Here are the top ten low-code mobile app development platforms.
Back4app
Outsystems
Backendless
Zoho Creator
Buildfire
Appy Pie
Bizness Apps
Mendix
Caspian
Appian
Read on to find out more.
Back4App
A platform committed to greater simplicity and flexibility in the world of app development, Back4App has made its mark in a variety of industry publications.
Back4App is a cutting edge solution for developers today. Provides an easy way to build, host, and deploy applications on one platform. It is a centralized platform for API and backend.
Back4App enables developers and designers to create and deploy applications that help improve the user experience without worrying about complicated infrastructure.
Main features
Back4App main features include:
A powerful all-in-one web-based dashboard to create, monitor, and manage apps, view analytics, and send push notifications.
A REST API tool that allows users seamless access to REST API functions. With the API console, you can experiment with debugging and API issues without writing a single line of code.
Send automated welcome and verification emails to users
Configure running tasks with background jobs
Configure parameters without launching a new application
Configuration permission to access data
Various software development kits
Advantages
Easy to use
Scalability
Open source
Relational data model
free start
Prices
Free plan: $0/month
Basic: $25/month
Standard: $50/month
Pay as you go: $100/month
OutSystems
OutSystems takes the confusion and misery out of building enterprise-grade solutions. It is a Rapid App Development (RAD) platform structured to dramatically accelerate the development of vital applications while providing unmatched efficiency and flexibility.
Its full-stack responsive development and one-click deployment capabilities are outstanding, and developers can deploy them on-premises or in the cloud.
OutSystems enables developers to address their critical digital transformation requirements across the business environment, from workplace innovation and evolved customer experience transformation to application modernization and process automation.
Main features
Some of the amazing features of OutSystems include:
Complete management of permissions and access control
Real-time verification and reporting of all application performance and usage
Inclusion of multilingual support
Full support for batch and schedule processes
Full security functionality and DevOps automation
Fully extensible through application programming interfaces
Integrated debugging engine
Native support for agile development
Integrated capture of customer feedback and effective management of application usage and performance
Advantages
The main advantages of using OutSystems are its mobile support, stable functionalities and customizations.
OutSystems helps developers build powerful, custom applications at a fraction of the cost, and developers do all of this without becoming familiar with the innovations and technologies that are changing and evolving.
Prices
You have a free trial available. However, the enterprise plans require developers to pay $4,000 each month.
Backendless
An advanced application development platform that believes today's organizations need the ability to build and update their programming solutions at speed.
Backendless is a dynamic, secure and scalable persistence solution. It is a low-code VADP that integrates UI builder and user-friendly interface with API, database and user management functionality.
Developers can opt for the no-code logic builder or customize apps with written code to build apps.
Main features
Backendless has the following features:
visual programming
Analysis
API
Data import and export
External integrations
Multi usuario
Advantages
Some of the main advantages of using Backendless include:
Convenient, drag-and-drop, and fast frontend development with UI Builder
Building apps with a no-code visual development tool
Develop and host on private servers or get started for free on a cloud-based service
Secure the backend and data with console visibility controls and user permissions
Create custom APIs, import from other sources, or change predefined templates
View and deliver data from a standard database
Track API metrics and app usage with built-in fundamental analytics
Prices
Free plan: $0 per month
Cloud 9 plan: $25 per month
Cloud 99 Plan: $99 per month
Zoho Creator
Zoho, a catchy name in business analytics and transformation, is a cross-platform software that offers low-code app development solutions to businesses through Zoho Creator.
It comes with a set of custom tools, including the intuitive drag and drop interface. Developers can use this low-code platform to collect information, start business workflows, evaluate data, and dramatically collaborate with users of their applications.
Using an advanced platform like Zoho Creator allows developers to eliminate all worries related to technical production. Once you push the databases into the system, Zoho will work on them and put them into production with minimal human interference.
Zoho Creator works consistently with the highest security standards, keeping your data safe and backing it up regularly.
Main features
These are some of the notable features of Zoho Creator.
Drag and drop app builder
Secure access controls
Workflow Builder
Multilanguage support
Smart reports
Integration and API
Interactive dashboards and collaboration tools
Client Portal
Advantages
Zoho Creator protects your data with the highest security precautions, eliminating all security and uptime issues. Regardless of events taking place in your software ecosystem, Zoho Creator will continue to take care of your critical operations.
What is more favorable is that remote and decentralized teams can use this platform as all operations are conveniently accessible through mobile devices.
Another notable advantage of using this system is that users can participate in large communities of ISVs and independent developers and gain valuable experience. Zoho's packages include all these features, which means that users will not have to pay any extra cents to interact with the community.
Prices
Zoho Creator offers a free plan. After the free trial period ends, users will have to opt for the basic plan ($15/user/month) or the premium plan ($30/user/month) or the ultimate plan ($35/user/month)
BuildFire
BuildFire, an easy-to-use, low-code platform on the market, is a universally usable solution. It is structured to bring IT teams and businesses together by enabling people without development skills to build applications sustainably.
BuildFire's powerful app builder makes it easy for app developers to build custom apps quickly and cost-effectively, ensuring organizations can accelerate innovation at scale.
BuildFire is intuitive for both novice app builders and experienced app builders. It makes application development convenient no matter how robust the application you need may be.
This unique platform allows developers to customize apps in every aspect without writing any code. All they need to do is drag and drop to create an app from scratch or customize a preconfigured template. It's more like having the entire developer team at your fingertips.
Main features
BuildFire features include:
Permits and access controls
Debug and Deployment Management
Function Library
Development of mobile applications without code
Reports or analysis
Design templates, drag and drop, source control and visual modeling
Prototyping
compatibility tests
Advantages
BuildFire offers fluid and intuitive navigation. This click-and-edit platform allows you to develop apps without having any prior app building experience.
BuildFire offers remarkable social media features as it uses SmartPush technology that sends you a notification whenever your users post comments or images, or both, to various groups depending on the organization you are involved with.
BuildFire's advanced app development options allow you to develop an app yourself through the app builder or hire a BuildFire professional to do it for you or use a combination of consulting.
Prices
BuildFire has a free trial and a free version period. Developers can freely build apps with maintenance and hosting starting at $189 per month.
Appy Pie
Appy Pie is one of the most well-known low-code software development solutions that promise today's organizations an easy environment to build apps quickly.
It democratizes app development and design by allowing developers to build apps regardless of their coding knowledge, budget constraints, and technical skills.
This web-based mobile app builder allows you to drag and drop various features to create apps, which means you'll have your app ready in minutes.
Appy Pie makes app development a breeze! So the next time you want to build an application, you can do it in peace, without writing code or worrying about syntax errors and bugs.
You just need to come up with an app idea, choose features and a color theme, and this fabulously intuitive mobile app development will have your app ready for you.
Main features
Some of the notable features of Appy Pie include:
cloud-based platform
app reviews
Application development without prior programming knowledge
Real-time app updates
Application reporting and analytics
App Monetization
Advantages
The main draw of Appy Pie is that it offers an amazingly functional app building experience with simple controls.
Developers can save a lot of time and money by starting building apps right away with Appy Pie's point-and-click and drag-and-drop features. You can have zero programming skills and still build enterprise-grade applications.
Appy Pie makes it easy to add extra features to apps, like creating custom forms for users to enhance interaction with business owners and displaying sale items in the shopping cart to place an order in just a few clicks.
Also, app builders can launch their apps without investing any money with Appy Pie's free marketplace.
Prices
Basic Plan: $25 per month
Gold Plan: $120/per month
Platinum Plan: $180 per month
Bizness Apps
Bizness Apps is a robust, low-code platform that is great at taking the hassle out of app development for both businesses and developers. This low-code app development platform is booming among individual developers and organizations for its white-label offerings.
Bizness Apps makes building and deploying apps a convenient and seamless process by offering developers intuitive drag-and-drop along with a dedicated support community to help them every step of the way.
Additionally, developers will have access to extensive customization options to make an app as complicated as they want.
Main features
Some of the Bizness Apps features worth checking out include:
A simple template-style solution
Easy to navigate and simple content management system.
Fully functional mobile app development
One simple click to publish Android, HTML5 and iOS apps simultaneously
A wide range of pre-designed templates
Maintenance and support available for life
Advantages
Bizness Apps is your destination if you're looking for an easy-to-use, yet customizable mobile app development solution.
One-touch dialing and GPS are two vital features that make this platform the best choice for developers. App users can use these features to contact you with any queries and locate your establishment with a single tap, respectively.
Cafe and restaurant owners can benefit from the integration of the Bizness App's food ordering feature. The integration and built-in 'Open Table' feature is a welcome addition to your app for displaying menus and offering a program Loyalty directly through the app. In particular, you can send notifications to customers about offers, special promotions and discounts.
Other amazing advantages of using this solution are:
Mobile shopping cart.
Option to share on social networks.
YouTube video integration.
Automated emails for the business database.
Prices
The single app plan is $99 per month and the reseller plan is $300 per month.
Mendix
Promising to reshape the app development space, Mendix offers a convenient, easy-to-use landscape where developers can shape ideas into full-featured tools.
Mendix is ​​a low-code application development solution that offers a comprehensive set of tools for building applications. It is a rapid interactive development, a visual development platform packed with tools.
Mendix is ​​a balanced, agile project management, one-click deployment application and visual modeling platform, implementing a fluid approach to application delivery.
Main features
The Mendix feature list includes:
Centralized Application Governance
business integration
Multi-device, multi-channel
Model-driven application development
Public or private app stores
Advantages
Software developers can benefit from using Mendix in the following ways:
visual development
reuse
Website-based rapid prototyping
Prices 
Mendix offers free community plans.
Free trial
Basic:  €50/ month
Standard:  €800/ month
Premium: Low price
Caspian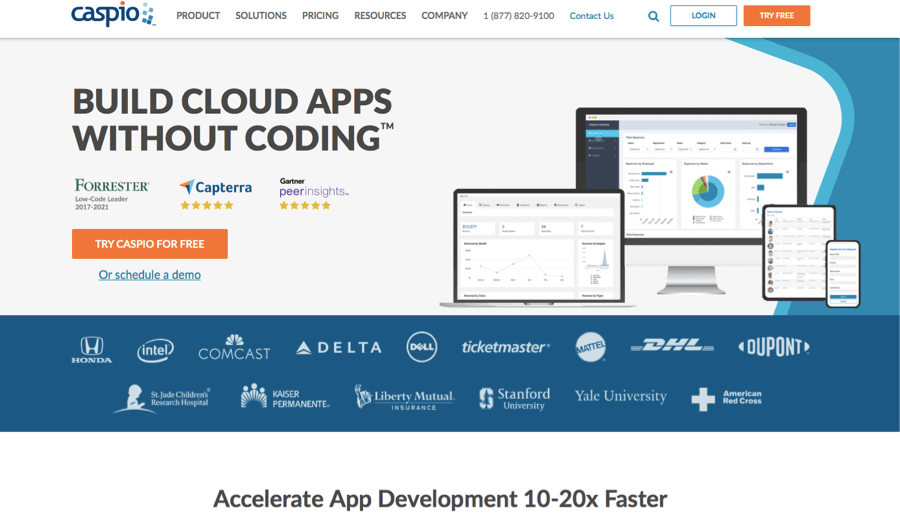 Caspio is a pioneering and leading low-code development platform. It is cloud-based software that provides a platform for developers to create custom applications. It comprises tools and features necessary to structure, develop and deploy mobile applications.
It is among the most reliable, secure and easy to manage repositories for its customers. This low-code platform backed by Microsoft SQL server provides a true database for developers to upload information and create reports by implementing the tools.
Users are offered an open API: enhancing customization features for them.
Main features
TRUSTe Certified Security
Reports
Integrations
Multiple language support
secure database
Remote access
Data import and export
User Management
password management
Multiple format support
Advantages
The best thing about using Caspio is that developers can create applications even if they are not professionals. All they have to do is use drag and drop or copy and paste to create custom apps.
Application development is very fun and convenient with Caspio. It makes app development a simple process through its wizard-based user interface that includes features like copy and paste code, point and click, drag and drop, customizable report templates and layouts.
Developers can generate progress charts and reports and instantly integrate currently created applications into websites.
Caspio is a cloud-based server and therefore does not require technical efforts for operational maintenance. Developers can access databases from remote locations.
Wherever you are, you can manipulate data and create reports as the platform supports data import and export for multiple servers.
Security is not an area of ​​concern when using Caspio, as it leverages TRUSTe-protected Amazon data centers
Prices
Free trial
Explore: $125 per month
Build: $250 per month
Grow: $500 per month
Corporate: Low price
Appian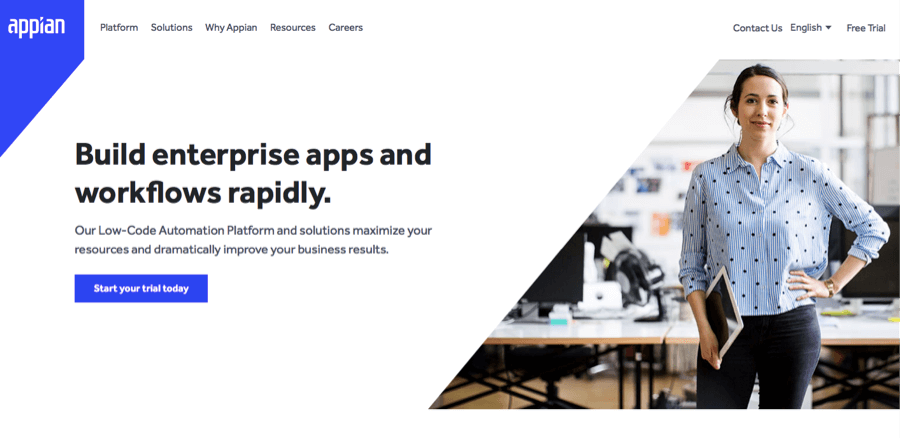 Appian is an enterprise-focused, low-code application development platform. The company started operations in 1999 and is listed on Nasdaq.
Main features
full automation
low code applications
low code data
Enterprise Ready
Advantages
Allows you to create applications 10 times faster
Named the Customers' Choice by Gartner
Combine people, technologies and data in a single workflow
conclusion
The low-code application development approach certainly contributes to a faster software development process. This possibility allows non-professional developers with little or no technical knowledge to join the application development process.
With these intuitive, low-code platforms, developers can build applications with minimal coding, reducing pressure on the IT team and increasing agility across the organizational landscape.
Frequent questions
What is low code?
Low code is a software development approach that uses a graphical user interface with simple drag-and-drop functions and logic instead of traditional hand-written code to create application software.
What are the advantages and disadvantages of low code?
Advantages: Fast development, low codes, governance.
Drawbacks: Performance, integrations, vendor lock-in
What are the top ten low code mobile app development platforms?
– Back4app
– Outsystems
– Backendless
– Zoho Creator
– Buildfire
– Appy Pie
– Bizness Apps
– Mendix
– Caspio
– Appian